This Web site is dedicated to the promotion of Bonsai in UK.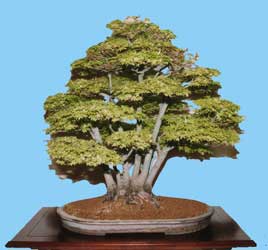 BONSAI
Literally translated means a tree in a tray or pot.
Bonsai is the art of growing trees and shrubs in pots, however a tree in a pot does not necessarily make it a Bonsai.
A bonsai is an artistic minature replica of a full size tree that may be found in nature, and is created by styling and training the trees for many years until they are aesthetically pleasing to the owner.

Welcome to Talk Bonsai, this Web site is for all bonsai enthusiasts and clubs in the UK. The main aim of this site is obtain information and pass it on to you.
Club details are listed in the "Clubs & Societies" page, free of charge. If your club is new or not listed please let us know. Please also tell us know if your club details have changed. The "Talking Shop"includes articles and will keep you advised of any news/gossip in the bonsai world, the "Calender of Events" contains information on shows or any other events for your diary. Please let us know of any forthcoming events or news you wish to be published on the site by email on Talkbonsai.com.
Bonsai dealer's details and personal classified ads are in the "Traders" section.
The "Notice Board" is available for any non professional traders to place a advert relating to Bonsai and is totally free of charge.
STOLEN TREE REGISTER - I personally can't think of anything worse than having one of my own bonsai trees stolen. So if you are unfortunately in that position where you have had a tree stolen, than send us as much information as possible including a picture and we'll display the details on our web site and who know, someone may know of it's whereabouts.
We have setup a forum within Yahoo, where you can post messages, ask for advice or chat to other bonsai enthusiasts via email free of charge.

| | |
| --- | --- |
| | Latest weather information |
We regret that we are unable to give any advice or help with regards to trees and suggest that you contact your local Bonsai Nursery.

Since 30th December 2000
---
Clara J. Vestal
Email: ClaraJVestal@inbound.plus
Last Modified: 8th April 2016
© Copyright 2016. Talk Bonsai